OUR BOOKS
Creating joy and connection around your table at home, and a very special memoir about renewal and freedom.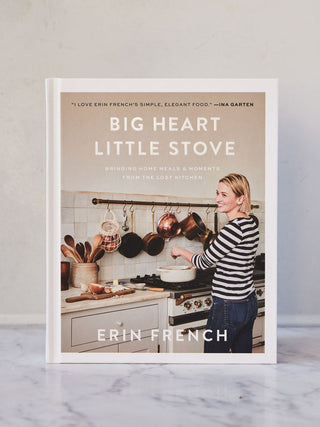 OUR NEW COOKBOOK IS HERE!
Big Heart Little Stove
Bringing home meals and moments from The Lost Kitchen.
Big Heart Little Stove is more than just a cookbook. With tips and tricks Erin has used in her own dining room—at home and in the restaurant-—this book is your invitation to use what's around you to create meaningful moments, from setting a table with found treasures to adorning dishes with edible flowers, to thoughtful gestures such as offering a cold cloth on a hot day. Full of warmth and spirit, Big Heart Little Stove will show you how to create more joy and connection around your table.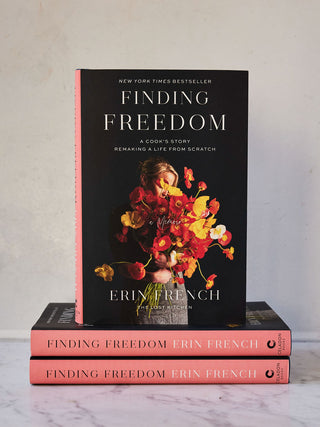 A New York times bestselling memoir
Finding Freedom
Remaking a life from scratch.
This singular memoir―a classic American story―invites readers to Erin's corner of her beloved Maine to share the real person behind the "girl from Freedom" fairytale, and the not-so-picture-perfect struggles that have taken every ounce of her strength to overcome, and that make Erin's life triumphant. In Finding Freedom, Erin opens up to the challenges, stumbles, and victories that have led her to the exact place she was ever meant to be. Through deep loss and abiding hope, told with both honesty and humor, her story will resonate with people everywhere who are determined to find their voices, create community, grow stronger and discover their best-selves despite seemingly impossible odds. Set against the backdrop of rural Maine and its lushly intense, bountiful seasons, Erin reveals the passion and courage needed to invent oneself anew, and the poignant, timeless connections between food and generosity, renewal and freedom.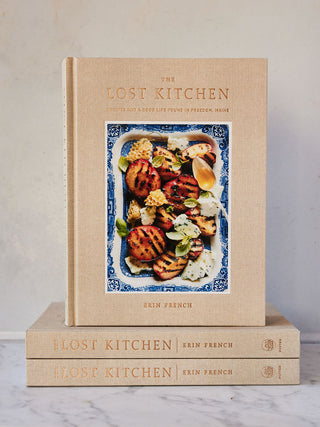 Our original cookbook
The Lost Kitchen
Recipes and a good life found in Freedom, Maine.
Erin French grew up in Freedom, Maine (population 719), helping her father at the griddle in his diner. An entirely self-taught cook who used cookbooks to form her culinary education, she now helms her restaurant, The Lost Kitchen, in a historic mill in the same town, creating meals that draw locals and visitors from around the world to a dining room that feels like an extension of her home kitchen. The food has been called "brilliant in its simplicity and honesty" by Food & Wine, and it is exactly this pure approach that makes Erin's cooking so appealing—and so easy to embrace at home.